Between the many and the one
The evolution process goes on
After the wholly regular grid-plan of Fig. 1, Mondrian embarked on a new series of works in which the planes differ in terms of form.
A composition expressed as a chromatic variation of the same measurements (Fig. 1) gives way to a space where there is change even in the size and shape of the colored planes (Fig. 2). If in 1919 variety was expressed by color only, now it is expressed expressed both through color and through form.
New solutions to the constant and the changeable
In Composition B (Fig. 2) Mondrian adopts a constant module serving to establish a more controlled rhythm in the alternation of planes. We note two contiguous yellow planes of rectangular proportions verging on squares. The same shape reappears lower down once in red and once in light gray. On the right, a large blue area proves to be the sum of the initial module repeated twice vertically. Lower down we have three rectangles – one yellow, one black, and one dark gray – presenting proportions that are half the initial module: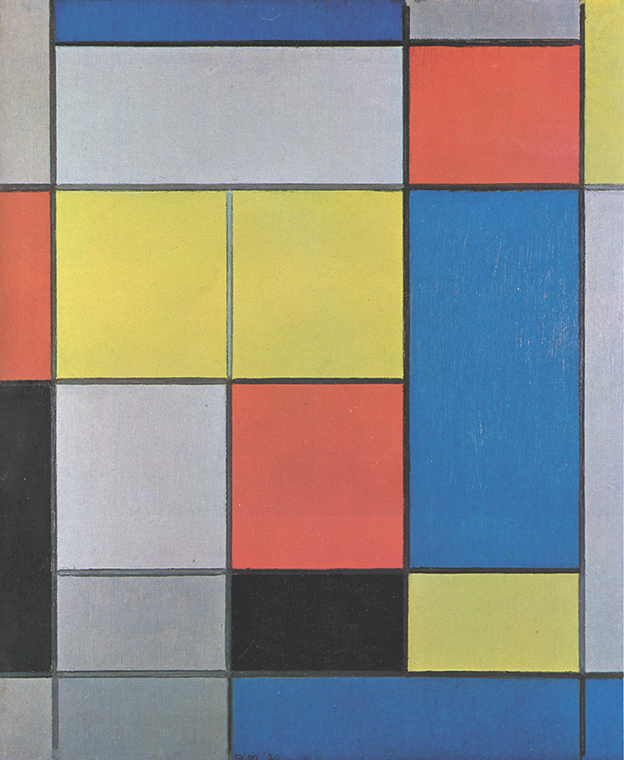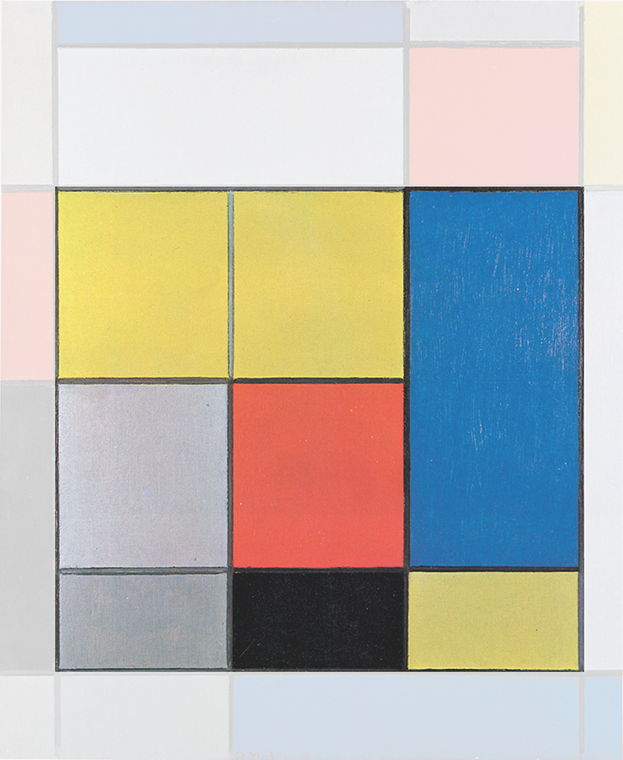 Fig. 2a: Though different both in color and in size, these planes are based on the same parameter. Each is an expansion or contraction, either vertical or horizontal, of a pre-established unit of measurement. The planes close to the edges of the canvas suddenly assume instead anomalous proportions that are no longer related to the module. After a phase of greater constancy to be observed in the central area, everything changes unpredictably.
Merging the changeable into the constant
The eight planes that are wholly proportional to the module form a large square when viewed all together. The square shows a slight horizontal prevalence to compensate the vertical format of the canvas. The space in this square field displays a certain degree of constancy whereas everything changes around it. With a large square visibly structured and colored within, Mondrian seeks here to present a unitary synthesis open to multiplicity; once again but in a new way, we are confronted with the one and the many.
With Composition B the artist seems intent on effecting interpenetration between the white rectangle unit and the large rectangles of colors in its immediate vicinity we see in Fig. 1a.
Because it is chromatically so heterogeneous, however, the large square which should suggest unity does not manifest itself with sufficient clarity and that's why in a following canvas the square turns again into a more evident white field defined by black lines (Fig. 3):
A greater degree of synthesis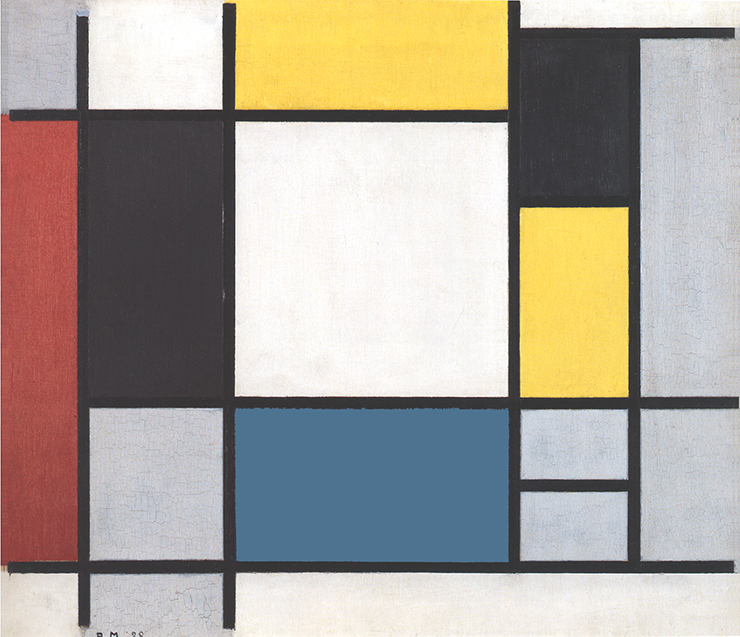 Composition with Yellow, Red, Black, Blue and Gray develops freely and is no longer subject to any pre-established module as in Checkerboard with Light Colors (Fig. 1a) and in Composition B (Fig. 2a).
Compared with Fig. 1a and Fig. 2a the number of planes decreases in Fig. 3 and the composition now displays a greater degree of synthesis. There is a decrease in the number of parts but an increase in their reciprocal diversity. The sense of multiplicity expressed in primarily quantitative terms in Fig. 1a now gives way to a sense of multiplicity expressed through difference in quality of the respective parts.
A dynamic square form
Mondrian does not see the square as a closed and pre-established geometric shape but rather the given moment in which the relationship between opposites (horizontal and vertical) attains a certain balance which is then lost when they again start to challenge and attain predominance over one another. The balance between opposites is of a dynamic nature same as the equilibrium between contrasting impulses we often search within ourselves.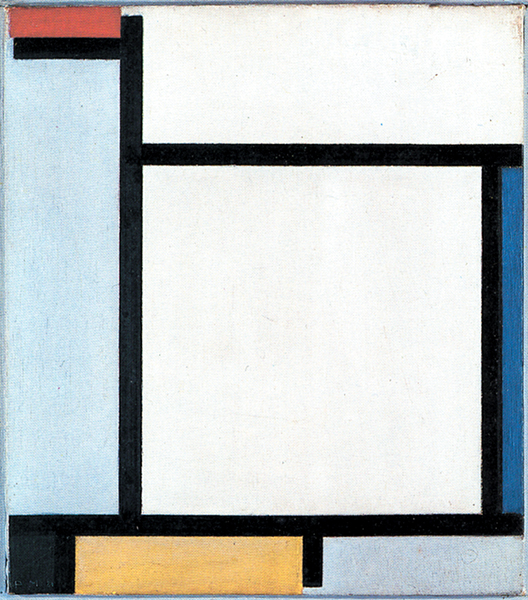 Fig. 4: The square unit is stirred by an asymmetric distribution of colored planes of various size and proportions. The artist suggests the uncertain and temporary nature of our attempts to find balance and unity of opposites. Every Neoplastic composition expresses this dialectic between the contradictory aspects and the unforeseeable flow of existence in everyday life and the human need to stabilize them and find something of greater constancy and duration. A square form keeps space constant while differences in size, proportion and color change it.
A variety suggesting synthesis
After reverting to an homogenous white field expressing unity (Fig. 3 and 4), Mondrian still endeavored in the works of 1921-22 to express both the one and the many at the same time (Fig. 5 and 6), but then ended up once again highlighting a large white square, made more dynamic and asymmetric by a variable set of colored areas around it (Fig. 8 and 9). The one and the many influenced one another reciprocally while remaining clearly separate and distinct.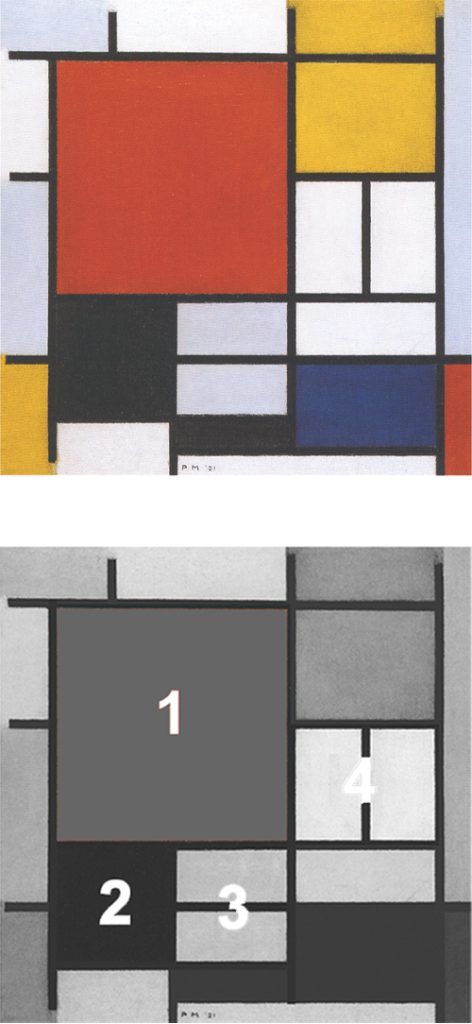 Everything seems subject to change in these compositions in terms of form or color. The space is in motion. More balanced syntheses are generated every so often (1, 2, 3, 4).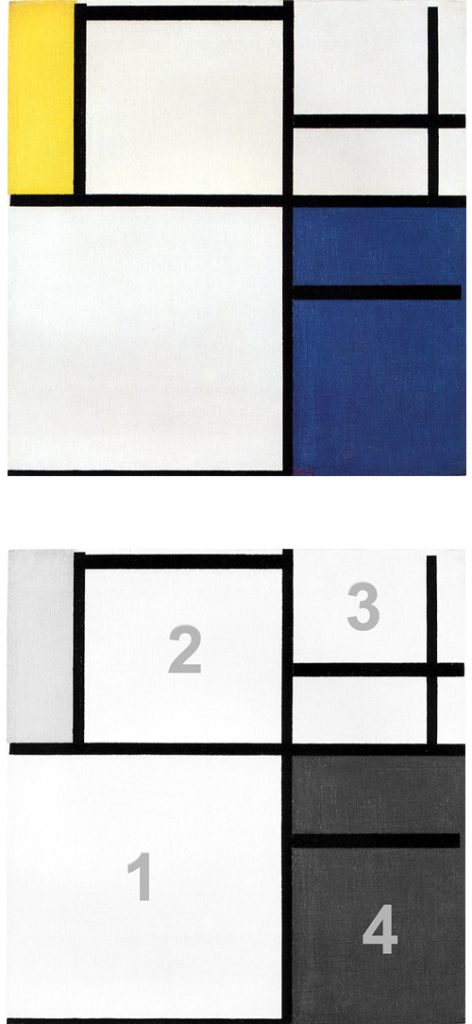 While preserving its function to suggest unity, the square changes in colors, size and proportions to suggest multiplicity at the same time just as the waves of an ocean that are all different from one another but always made of the same water.
In Fig. 5 to the right of the large red square and to the right of the smaller black square below (2), we can see a slightly more horizontally developed whitish square field crossed by a vertical segment (4) and slightly more vertically developed grayish square field crossed by a horizontal segment (3).
This too is a way of evoking a sense of variation while keeping the space comparatively constant, with the same configuration (a square concept) changing position, proportions, and colors. This is a way of showing multiplicity evoking at the same time a tendency towards synthesis and unity.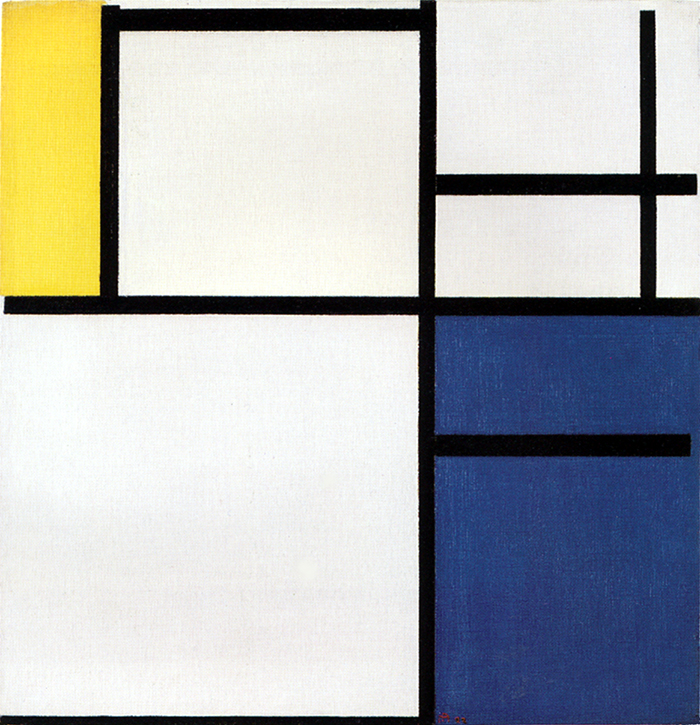 It is form that establishes equivalence in the lower-right corner while color blue reopens it (Fig. 6). Elsewhere It is instead color more than form that generates a large blue field of square shape (Fig. 7).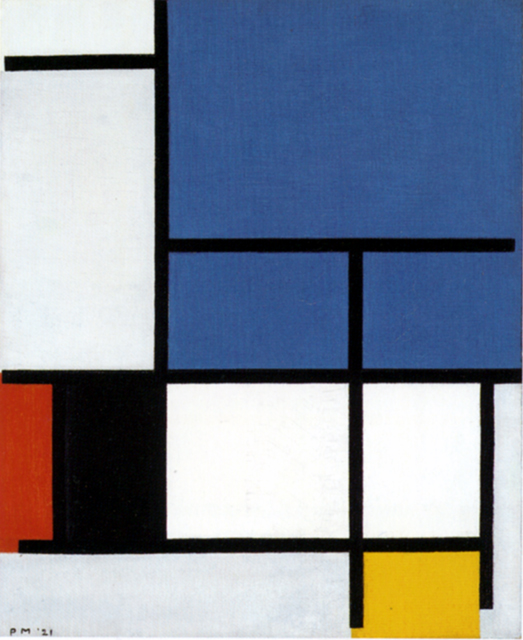 Alternating colored squares with white squares
Other works again present a large white square field occupying most of the canvas: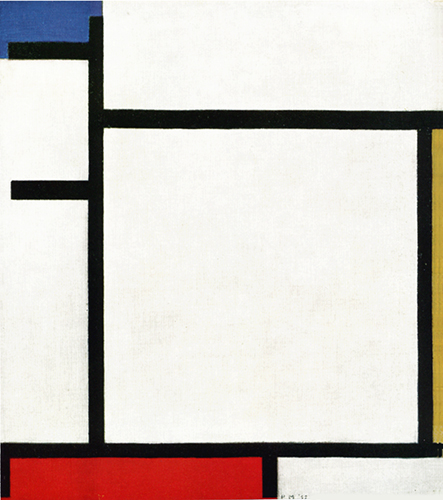 Developed around the white square field are areas of variable size, each of which in white or in a primary color. The colored planes are arranged in such a way as to create a dynamic asymmetry and make the square (equivalence of opposites) unstable; express unity in a relative way.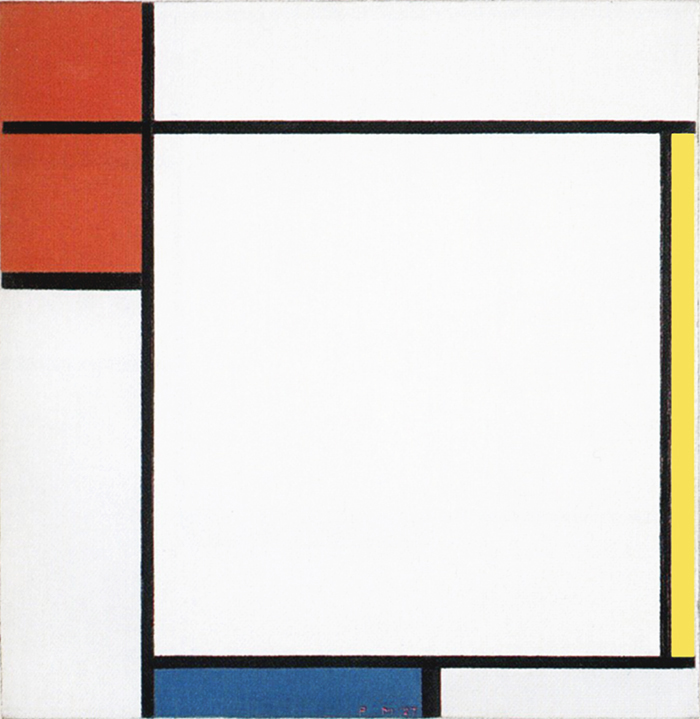 The continuous interaction between opposites that produces open and unstable situations elsewhere is transformed into interpenetration that generates balance and harmony with the square.
A vision of the whole
The balance of the composition is influenced by all the elements and not only by the square. Every part is unique and unrepeatable but nevertheless contributes to the overall economy of the work, and it is precisely a vision of the whole that determines the relative value of each individual part. It is important to reassert that we use the word "square" to describe a balanced relationship between horizontal and vertical which is in fact never a preconceived geometrical form. Mathematics have nothing to do with Neoplastic space. Every square proportion of each individual composition is different from the other according to the context: here we see a slightly more vertical square and there a square which slightly expands horizontally.
Heaven or hell
There are no elements in Neoplastic space endowed with absolute validity. It is therefore not the square in itself but the whole, i.e. a space that starts from a condition of change, attains momentary equilibrium, and then flows back into the unstable alternation of situations. If constancy predominates, the space is atrophied in a static square and bears little resemblance to life. Conversely, if change prevails, the space is in danger of becoming chaotic and appeals less to the human mind. The subtle balances produced in Neoplastic space are a transposition of the far more complex and never achieved equilibriums of existence. How many times in our lives have we had the impression of being able to attain a stable and lasting balance that is then always challenged by existence? We often suffer imbalances between the opposing impulses of instincts and mind and we would always like to find balance, synthesis and unity, that is, our own inner paradise. Many times during an existence one can reach paradise and many times one can find oneself in hell; what Mondrian called the tragic; when duality (diabolus) (from the Greek dia = through and ballo = to put in the middle, to separate, to create fractures) lacerates the integrity of consciousness and unity is lost. Unity is manifested with an equivalence of horizontal and vertical (the square proportion) while elsewhere the horizontal prevails and dominates over the vertical and vice versa.
Visit next page: Neoplasticism – Part 2
back to overview